AC Hotel by Marriott Comes to Savannah's Historic District
In March 2022, after more than seven years of design reviews, the Savannah Historic District Review Board approved plans for the construction of a new AC Hotel by Marriott on East River Street in Savannah, Georgia. The new hotel will be situated between the East River Street Ramp on to Bay Street and Homewood Suites.
The 170-unit hotel will feature a rooftop bar and dining, open to the public, with views of the Savannah River. The ground floor will offer a market and café space serving specialty coffee and wine. Hotel amenities will include over 4,000 square-feet of meeting space, valet parking, and a fitness center.
The project broke ground in 2022 and Atlas Surveying's Bluffton office was subcontracted by Balfour Beatty Construction to provide surveying services for the project. Atlas will verify control, set temporary benchmarks, and stake property lines, water, rough building corners and exterior wall points. Elevations will be verified and set.
The second phase of the AC Hotel's construction includes a 316-space parking structure. Under contract to Balfour Beatty Construction, Atlas will stake baseline control, grid lines, walls, and lay out test piles for the structure.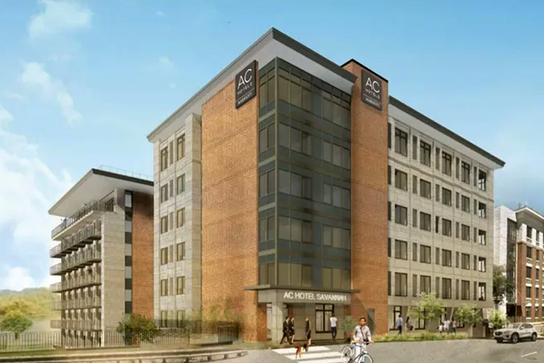 S. Jay Patel, President and CEO of North Point Hospitality, the project's developer, said "with more than 20 years of development and operating experience in Savannah, we are confident the AC Hotels brand will add to the rich hotel landscape in the [Savannah] market." Noah Silverman, Global Development Officer for Marriott International, said "we are excited North Point Hospitality has chosen to bring the AC Hotels brand to Savannah's historic district."
The AC Hotel by Marriott is scheduled for completion in the first quarter of 2024.