Adams Hill Apartments at Haywood & Pelham Road
In September 2021, Dominion Realty Partners (DRP) broke ground on their first multi-family development project in Greenville, South Carolina. At the corner of Haywood and Pelham Road, Adams Hill Apartments will consist of 320 Class A suites accompanied by corner front retail.
The 15-acre community sits just off of I-85, providing convenient access to Greenville's lively downtown and attractions such as Roper Mountain Science Center, The Greenville Zoo, and Cleveland Park. The upscale apartments will include large kitchen islands, oversized windows, sliding glass doors, private balconies, and keyless unit entry. Amenities include a resort-style pool, green activity lawn, automated package delivery system, club house, recreation center game room, and state-of-the-art exercise facility with interactive fitness class studio.
Adams Hill will include extensive green and sustainability concepts to obtain a green designation from the National Association of Home Builders. As a National Green Building Standard rated property, the community will be developed to include water conservation measures, local materials, energy-efficient mechanical designs, resource conservation techniques, and indoor environmental quality considerations.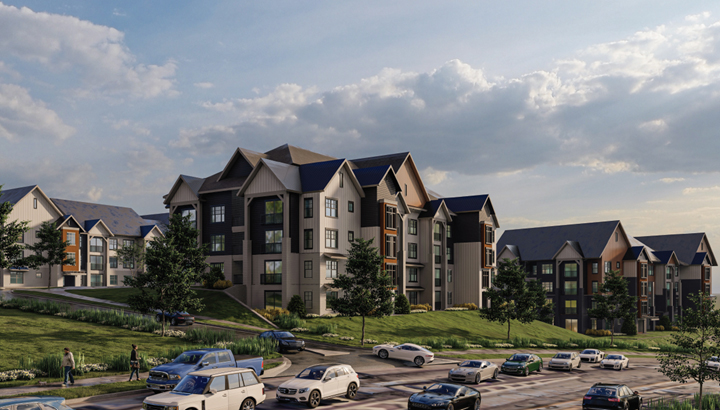 Atlas Surveying, Inc.'s Greenville office is subcontracted by Armada Hoffler, the general contractor overseeing construction, to provide surveying services for the project. Atlas will verify control and set temporary benchmarks throughout the site. For nine essential buildings, hub and tack for stem wall, hub and tack of lower slab, and foundation surveys will be performed, as well as setting finished floor elevation. Hub and tack will also be completed for the dumpster enclosure and pool shack. Atlas will perform a topographic survey and stake the pool with elevations.
DRP President, Michael Campbell, says "we have been looking for a great site in Greenville for the past four years and we really look forward to bringing this community to the Haywood Road corridor. With superb access to the greater Greenville market, this will be a great home for people working throughout Greenville County."
Adams Hill Apartments will create approximately 500 jobs over the course of 23 months. The first units are expected to be available in the spring of 2023.