The Oliver at Tom Hunter
The Oliver at Tom Hunter is a new, 221-unit apartment complex currently under construction in Charlotte, North Carolina. The 7-acre site will consist of a 4-story manor building and two 4-story apartment buildings with basements, surface parking, and EV charging stations. Positioned one block from the Tom Hunter light rail station, it is the first multi-family project in Charlotte to be designed under the new Transit Oriented Development (TOD) guidelines. Give The Oliver's close proximity to public transit, it was important to make pedestrian convenience a priority.
The corner of the manor building serves as the entryway to the two-story lobby space. The manor surrounds a pool courtyard containing a lap pool and grill areas. A folding door system in the group fitness room connects the interior and exterior via a greenspace, suitable for outdoor yoga and cycling classes. The sky lounge on the top floor offers outdoor communal space for gatherings. All ground-level units on Gloryland Avenue and McGill Street connect to the public sidewalk.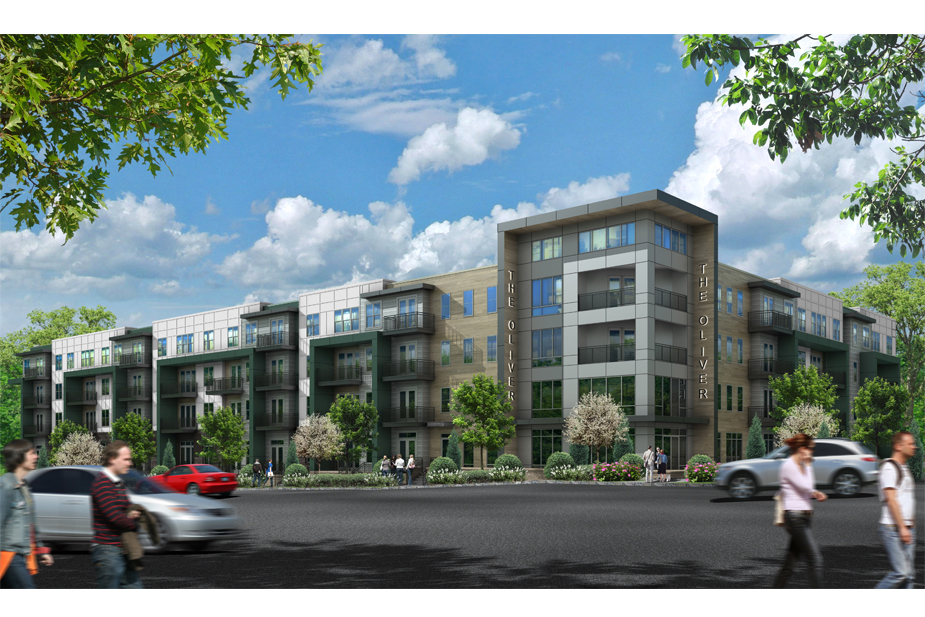 Atlas Surveying, Inc.'s Charlotte office is subcontracted to Barton Contracting to provide surveying services for the project. Atlas will verify control and set temporary benchmarks throughout the site, stake silt fence and limits of disturbance, set GPS control points and finish grade curbing. Retaining walls will be staked and a machine control file will be provided. Storm, underground detention, sewer, and water will be staked. Utility as-builts for storm, underground detention, sewer, and water will be provided.
The $40 million project is scheduled to be completed in spring of 2023.